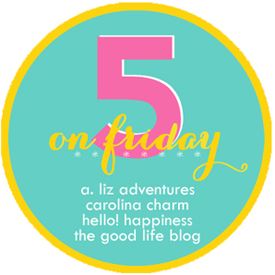 I have loved reading these posts that range from pictures of the week, to favorite recipes, to powerful blogs or articles.
Maybe next time, there will be a central thought or idea to my post, but this totally random approach is what I'm loving today!

It is Friday, after all!
One
. an article.
"
God Only Gives Special Needs Children to Special People
."
If had a dollar for everytime someone told me that, well, I could pay Bill Gates' mortgage this month. Wait, I doubt Bill Gates even has a mortgage. But, you know what I mean.
It doesn't bother me when people say it, in fact quite the opposite is true. I do feel like I was chosen specially. But, I was also chosen specially to be Brian's bride. I was chosen to be a teacher and a friend and a daughter and a sister. God chose this life especially for me. And that is what makes me special - that I was chosen to walk this path, lead this life, be touched by so many, and have the opportunity to glorify God with each beautiful step.
I loved this post about how God is magnified through the blessing of a child with a disability. With each word, I nodded. Once so emphatically, I banged my head on the headboard and am still seeing stars. Oh, how I love the blogging community to connect with and be ministered to by others.
Two.
two special visits.
Summertime means time to catch up with family and friends that sometimes get pushed aside in the hustle and bustle of everyday.
We had two this week. The first was with my Nana. I love Baker getting to meet the people I love the most. She is so special to my family. She is reason my mom decided her grandmother name would also be Nana.
Next, we got to visit the Smalley family. This family is about as close to my own without sharing my last name. I started babysitting for them in January 2004. Two of their five children, Jack and Sarah Kate, were in our wedding and some of my favorite memories involve these precious kiddos, and their parents, too.
Circa 2005. That grin!
Somehow, I blinked, and now she's old enough to play with my baby.
Such a fun day!
Three. lovely reads.
I did a favorite books post a while
back
. Baker is finally getting to the age where he picks his favorite books. Right now it's,
Chicka Chicka Boom Boom
. We read it multiple times each day and he even predicts the next part and has his hands ready for the motions the uber-cheesy elementary teacher in me assigned to each page. I love this! 
I find that throughout the day, and night, too, the words from the books we've read throughout the day creep up on me. I find myself sing-songing catchy choruses as I clean out the dishwasher, and reciting rhymes as I wait to check out in long grocery store lines.
Last night, as I checked on Baker one last time before I went to sleep. These words danced in my mind.
"But at night time, when he was asleep,
the mother quietly opened the door to his room,
crawled across the floor and looked up over the side of the bed.
If he was really asleep,
she picked up that [fourteen month old]
and rocked him back and forth and back and forth.
And as she rocked him, she sang,
I love you forever,
I like you for always,
as long as I'm living,
my baby you'll be.
I will surely love you forever, my precious angel.
Four. good stuff.
Jesus Calling is such a wonderful devotional. It's amazing how the Lord speaks just the right words at just the right time my heart needs to hear them.
Some of my favorites from this week:
"Come to me continually,
I am meant to be the Center of your consciousness,
the Anchor of your soul."
"Worship me in the beauty of holiness."

"Whenever you start to feel fearful or anxious,
repeat this unconditional promise:
Nothing can separate you me from Your Love, Jesus."
And my two favorites.
"Be assured that I never abandon any of My children, not even temporarily."
"I have engraved you on the palms of My hands."

Five. please don't go, summer girl.
As much as I am loving Summer, I am getting excited about Fall!
tailgaiting and Alabama football (road to 16, anyone?),
consignment sales and fun Fall appliques,
chili and yummy warm soups,
RISE and new back to school adventures for Baker and me,
cooler weather and warm scarves,
leaves crunching and heat blowing and fire crackling.
It makes me want to grab a quilt, throw it over my two favorite boys, and watch the stars dance in the cool night sky.
Except for, we'd likely die of humidity and heat exhaustion.
Oh, at least it's fun to dream!
And I'd much rather savor these last few days of Summer...
Please stick around forever.
Happy Friday, friends!