In honor of Baker's second birthday,
Buying for a child with a disability is very similar, if not just like, buying for a child without a disability.
Just like most (almost) two year olds, Baker is wild and silly.
He likes getting dirty, wants to play with anything loud, and loves having fun!
To ensure he is progressing and advancing in all areas of development,
I try to make sure his play is purposeful.
When I consider a toy, I ask these five questions.
1. Does the toy promote speech/language, fine or gross motor, cognitive, and/or sensory development?
2. Does the toy encourage exploration?
3. Does the toy engage his imagination?
4. Does the toy encourage active engagement (versus passive)?
5. Is it fun? (scientific, I know)
If it isn't fun, none of the others matter.
Here are some of my favorite toys for differently-abled children.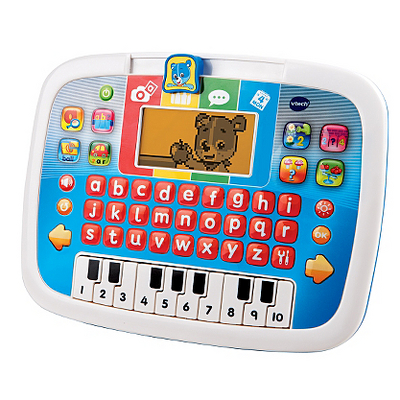 Leap Frog Poppin' Play Piano
Get Ready for School Elmo
Farmer's Market Color Sorting Set Mickey Mouse Doctor Play Set
Toddler Table and Chairs Set
Happy (almost) birthday to my favorite (almost) two year old!
Watching my sweet boy play,
watching him explore,
watching his imagination,
watching him learn -
it's one of the greatest joys in my life.
Pictures were downloaded from Amazon, Wal Mart, Target, or Toys R Us.

Happy Shopping!